As a record-breaking year for bitcoin cryptocurrencies comes to an end, some of the smallest coins are experiencing a renaissance.
Polkadot and Cardano were among the coins that made the biggest moves on Monday following a relatively quiet holiday weekend, each rising more than 6% at one point before reversing course, according to Coinmarketcap.com data. As of 5 p.m. in New York, Bitcoin, the largest digital asset, was little changed at around $51,000, while Ether was around $4,060.
"Without a doubt, Bitcoin's dominance has waned in recent months," said Matt Maley, chief market strategist at Miller Tabak + Co. "I believe this is simply because some investors are on the lookout for the 'newest thing.'"
The fact that alternative coins are gaining traction is not new: Apart from the largest few, many cryptocurrencies have had spectacular runs this year as the crypto economy expanded and attention shifted to other segments of the market. Dogecoin, Cardano, and Shiba Inu have all become household names this year, having previously been relegated to the most speculative corners of the market.
"While Bitcoin is advancing rapidly within the global economy, it's easy to see how that progress is being surpassed by some of the smaller, faster-growing networks," said Mati Greenspan, founder and CEO of Quantum Economics
Bitcoin Became a Mainstream Currency in 2021. It's As Volatile as It's Ever Been
CryptoCompare reported a 20% drop in December to $39 billion. The drop reduced Bitcoin's share of total digital-asset investment vehicles to 67.8% from 70.60%, the lowest share of the year.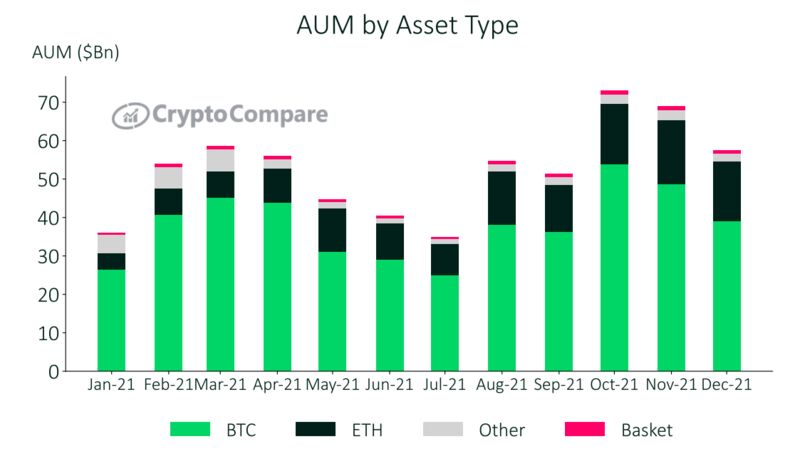 According to Coinmarketcap.com, Polkadot and Cardano have both gained more than 20% in the last seven sessions. Axie Infinity's coin gained 18% during that time period, while FTX's coin gained 7%.
December was a volatile month for Bitcoin, the original and once-dominant cryptocurrency. The coin has lost 10% so far this month, putting it on track for its second consecutive monthly loss.
Maley cautions, however, that investors should not venture too far out on the risk spectrum when it comes to cryptocurrencies. "As was the case with internet stocks in 2000, only the strongest stocks survived in the long run," he explained.
Some chart analysts looking for clues to Bitcoin's future direction notice some positive formations. The coin has formed a bullish "cup-and-handle" pattern and is currently attempting to break above the $51,970 resistance level. If it does so, the 50- and 100-day moving averages would be the next targets.
Bitcoin Pales Next to Alternative Coins in Up Day for Crypto – Bloomberg